These articles I have linked and put together present an alarming food & beverage additive that may be poisoning men, women, and children on a daily basis since the FDA approved aspartame in 1981 for dry food products & approved in 1983 for drinking beverages. As you read through all these articles you will find insurmountable evidence that may very well prove you are in fact at risk. But I will let you make that decision.
What is Aspartame?
An artificial sweetener formed from aspartic acid. Chemical formula: C
14
H
18
N
2
O
5
.
What is Aspartic Acid?
An amino acid, one of the 20 building blocks of protein. A amino acid that is not essential to the human diet, aspartic acid was discovered in protein in 1868. It has a role as a neurotransmitter.
Wikipedia states:
Diet Coke was sweetened with
aspartame
after the sweetener became available in the United States in 1983;
[2]
to save money, this was originally in a blend with
saccharin
. After
Diet Rite
cola advertised its 100 percent use of aspartame, and the manufacturer of
NutraSweet
(then,
G.D. Searle & Company
) warned that the NutraSweet trademark would not be made available to a blend of sweeteners, Coca-Cola switched the formula to 100 percent NutraSweet. Diet Coke from fountain dispensers still contains some saccharin to extend shelf life.
[3]
In other countries, in which
cyclamates
are not banned (as they were in the U.S. and the United Kingdom in 1970), Diet Coke or Coca-Cola Light may be sweetened with a blend containing cyclamates,
aspartame
, and
acesulfame potassium
.
In 2005, under pressure from retailer
Wal-Mart
(which was impressed with the popularity of Splenda sweetener), the company released a new formulation called "Diet Coke sweetened with Splenda".
[4]
Sucralose
and
acesulfame potassium
replace aspartame in this version. Early sales were weaker than anticipated; however, Coca-Cola did little advertising for the brand, investing money and advertising in
Coca-Cola Zero
instead. By late 2009, some distributors had stopped supplying Diet Coke sweetened with Splenda.
Diet Coke does not use a modified form of the Coca-Cola recipe, but instead an entirely different formula. The controversial
New Coke
, introduced in 1985, used a version of the Diet Coke recipe that contained
high fructose corn syrup
and had a slightly different balance of ingredients. In 2004, Coca-Cola introduced
Coca-Cola C2
, which it claims tastes much closer to Coca-Cola but contains half the
carbohydrates
. In 2005, the company introduced
Coca-Cola Zero
, a sugar-free variation of regular
Coca-Cola
.
When Tab was released in 1963, the Coca-Cola Company refused to release a diet soda with the Coca-Cola name, fearing that its flagship brand might suffer. Its rival
Pepsi
had no such qualms, and after the long-term success of its sugar-free
Diet Pepsi
(launched in 1964) became clear, Coca-Cola decided to launch a competing sugar-free brand under the Coca-Cola name, which could be marketed more extensively than the more anonymous Tab.
Diet Coke and Diet Pepsi have capitalized on the markets of people who require low sugar regimens, such as
diabetics
and people concerned with calorie intake. In the UK, a 330 ml can of Diet Coke contains around 1.3 calories (5 kilojoules) compared to 142 calories (595 kJ) for a regular can of Coca-Cola.
How Rumsfeld Insured
Aspartame's Approval
Under Reagan
From Dr. Betty Martini, D.Hum.
bettym19@mindspring.com

11-27-7



From wife of former FDA Commissioner Dr. Jere Goyan who was asked to resign so Rumsfeld could get aspartame on the market after FDA had revoked the petition for approval. Rumsfeld is responsible for the millions of lives lost from this poison.
November 13, 2007

Dr. Betty Martini

9270 River Club Parkway

Duluth, GA 30097

Dr. Martini,

Jere E. Goyan, Ph.D., who was Commissioner of the FDA in 1980, was at my condominium in Novato, California when he received the call from the Reagan transition team. My recollection is that is was 3 AM and the woman's name was Mary Francis Wright. Dr. Goyan told me that she told him that his services were no longer needed and that he needed to have his letter of resignation to Mr. Reagan on Inauguration day. He said that he was also told to vacate his office before the Inauguration as that Mr. Reagan wanted to make it clear that there was going to be changes. Mark Novitvh, MD, was appointed acting Commissioner and Dr. Goyan was to stay for a month to help with the transition. He later told me that he was never consulted about anything after Inauguration day.

I have heard from various sources that Rumsfield was quoted as saying that "Goyan must go". I have also heard that the reason that Dr. Goyan became the first Commissioner to be fired at the change of an administration is that Rumsfield was concerned that he would not approve aspartame because of his position on cyclamate. I have heard that there was an executive order from the White House concerning aspartame after Dr, Goyan resigned. I have no direct knowledge about the Rumsfield quote or concern or the executive order.

I married Dr. Goyan in 1988 and he passed away January 2007.

Sincerely,

Linda L. Hart, Pharm, D.

____

end of letter

Dr. Betty Martini, D.Hum, Founder

Mission Possible International

9270 River Club Parkway

Duluth, Georgia 30097

770 242-2599

www.mpwhi.com, www.dorway.com, www.wnho.net

Aspartame Toxicity Center,

www.holisticmed.com/aspartame
The Man that Prevented Aspartame in Food
Jere E. Goyan, Ph.D.
10/21/1979 - 1/20/1981
*
Jere E. Goyan was the first pharmacist to serve as Commissioner of Food and Drugs. Born in Oakland, California in 1927, he was educated at the University of California-San Francisco and the University of California-Berkeley, where he received his Ph. D. in pharmaceutical chemistry in 1957. From 1956 to 1963 he was on the faculty of the University of Michigan School of Pharmacy, and from 1963 to 1979 he was a faculty member at the University of California-San Francisco School of Pharmacy, where he also was dean since 1967. His principal area of research expertise concerned pharmacokinetics.
Patricia Harris, Secretary of HEW, named Goyan Commissioner of Food and Drugs, a position he served in from October 1979 to January 1981. Highlights during Goyan's tenure at FDA included the emerging link between toxic shock syndrome and the Rely tampon--and the agency's response, an attempt to make patient package inserts compulsory, and an investigation of widespread polychlorinated biphenyl (PCB) contamination of livestock and feed.
Goyan returned to his deanship at UCSF after Ronald Reagan was elected president, where he remained until his recent move to an executive position in the pharmaceutical industry. Among many other honors, Goyan received the Remington Medal from the American Pharmaceutical Association, numerous lectureships, and honorary degrees from the Philadelphia College of Pharmacy and Science, the Massachusetts College of Pharmacy, and other institutions.
* Mark Novitch, M.D., deputy commissioner from 1979 to 1985, acted as commissioner on two separate occasions, totaling approximately 13-1/2 months, between the tenures of Jere Goyan, Arthur Hayes, and Frank Young.
http://www.fda.gov/AboutFDA/CommissionersPage/PastCommissioners/ucm113340.htm
The Man That Replaced Dr. Goyan & Approved Aspartame
Arthur Hull Hayes Jr., M.D.
4/13/1981 - 9/11/1983
*
Arthur Hull Hayes, Jr., was born in Highland Park, Michigan, in 1933. A Rhodes Scholar, he received an M. D. from Cornell in 1964. Following his internship, residency, and a two-year stint in the army, Hayes began his career in clinical pharmacology at his medical alma mater from 1968 to 1972. He then moved to the faculty of Pennsylvania State College of Medicine.
In April 1981 Richard Schweiker, Secretary of Health and Human Services, appointed Hayes to lead FDA. Under Hayes, FDA dealt with the Tylenol crisis, ushered in the first orphan drugs, and carried out major reorganizations of drugs, biologics, and other areas, among other activities.
Hayes left FDA in September 1983 to become dean and provost of New York Medical College, and in 1986 he shifted to executive positions in the pharmaceutical industry. Among other recognitions, Hayes served on the editorial boards of Clinical Pharmacology and Therapeutics, Rational Drug Therapy, and the Journal of Clinical Pharmacology, he served as president of both the American Society of Clinical Pharmacology and Therapeutics and the United States Pharmacopoeial Convention, and he received honorary degrees from St. John's University and New York Medical College.
Mark Novitch, M.D., deputy commissioner from 1979 to 1985, acted as commissioner on two separate occasions, totaling approximately 13-1/2 months, between the tenures of Jere Goyan, Arthur Hayes, and Frank Young.

Donald Rumsfeld, G.D. Searle & Company, NutraSweet, and the Reagan Administration
Donald Henry Rumsfeld
(born July 9, 1932) is an American politician and businessman who served as the 13th Secretary of Defense from 1975 to 1977, under President Gerald Ford, and as the 21st Secretary of Defense from 2001 to 2006, under President George W. Bush.[1] Combined, he is the second longest-serving defense secretary after Robert McNamara.
Rumsfeld was
White House Chief of Staff
during part of the Ford Administration and also served in various positions in the
Nixon
Administration. He was elected to four terms in the
United States House of Representatives
, and served as the
United States Permanent Representative to NATO
. He was president of
G. D. Searle & Company
from 1977–1985, CEO of
General Instrument
from 1990–1993, and chairman of
Gilead Sciences
from 1997-2001.
Business
From 1977 to 1985 Rumsfeld served as Chief Executive Officer, President, and then Chairman of
G. D. Searle & Company
, a worldwide pharmaceutical company based in
Skokie, Illinois
. During his tenure at Searle, Rumsfeld led the company's financial turnaround, thereby earning awards as the Outstanding Chief Executive Officer in the Pharmaceutical Industry from the
Wall Street Transcript
(1980) and
Financial World
(1981). In 1985, Searle was sold to
Monsanto Company
. Rumsfeld is believed to have earned around $12 million from this sale.
[27]
Rumsfeld served as Chairman and Chief Executive Officer of
General Instrument Corporation
from 1990 to 1993. A leader in broadband transmission, distribution, and access control technologies for cable, satellite and terrestrial broadcasting applications, the company pioneered the development of the first all-digital
high-definition television
(
HDTV
) technology. After taking the company public and returning it to profitability, Rumsfeld returned to private business in late 1993.
From January 1997 until being sworn in as the 21st Secretary of Defense in January 2001, Rumsfeld served as Chairman of
Gilead Sciences, Inc.
Gilead Sciences
is the developer of Tamiflu (
Oseltamivir
), which is used in the treatment of
bird flu
.
[28]
As a result, Rumsfeld's holdings in the company grew significantly when avian flu became a subject of popular anxiety during his later term as Secretary of Defense. Following standard practice, Rumsfeld
recused
himself from any decisions involving Gilead, and he directed the Pentagon's
General Counsel
to issue instructions outlining what he could and could not be involved in if there were an avian flu pandemic and the Pentagon had to respond.
During his business career, Rumsfeld continued public service in various posts, including:
Member of the President's General Advisory Committee on Arms Control—Reagan Administration (1982–1986);

President Reagan's Special Envoy on the Law of the Sea Treaty (1982–1983);

Senior Advisor to President Reagan's Panel on Strategic Systems (1983–1984);

Member of the U.S. Joint Advisory Commission on U.S./Japan Relations—Reagan Administration (1983–1984);

President Reagan's Special Envoy to the Middle East (1983–1984);

Member of the National Commission on the Public Service (1987–1990);

Member of the National Economic Commission (1988–1989);

Member of the Board of Visitors of the National Defense University (1988–1992);

Chairman Emeritus, Defense Contractor,

Carlyle Group

(1989–2005);

Member of the Commission on U.S./

Japan

Relations (1989–1991);

Member of the Board of Directors for

ABB Ltd.

(1990–2001);

FCC

's High Definition Television Advisory Committee (1992–1993);

Chairman, Commission on the Ballistic Missile Threat to the United States (1998–1999);

Member of the U.S. Trade Deficit Review Commission (1999–2000);

Chairman of the U.S. Commission to Assess National Security Space Management and Organization (2000);

Honorary Vice-Chancellor of Yale University (2001), honoring Rumsfeld's U.S. foreign policy work.

Rumsfeld served as
United Way
Inter-governmental Affairs Director in
Washington, D.C.
from 1986 to 1989. He was asked to serve the
U.S. State Department
as a "foreign policy consultant," a role he held from 1990 to 1993. He served as Chairman of
Gilead Sciences, Inc.
and the
RAND Corporation
.
Taken from:
http://en.wikipedia.org/wiki/Donald_Rumsfeld
G.D. Searle & Company or just Searle
was a company focusing on life sciences, specifically pharmaceuticals, agriculture, and animal health. It is now part of Pfizer.
History
Searle was founded in
Omaha, Nebraska
, in 1888. The founder was
Gideon Daniel Searle
. In 1908, the company was incorporated in
Chicago
. In 1941, the company established headquarters in
Skokie, Illinois
. It was acquired by the
Monsanto Company
in 1985. Pharmacia Corporation was created in April 2000 through the merger of Pharmacia & Upjohn (itself the result of the merger of
Pharmacia
and
Upjohn
) with the Monsanto Company and its G.D. Searle unit. The merged company was based in
Peapack, New Jersey
. Pfizer acquired Pharmacia in 2003 and retired the Searle name.
Robert B. Shapiro
acted as general counsel for the firm from 1979 onwards, where he went on develop Searle's
aspartame
product under the brand name
NutraSweet
. He became CEO of its NutraSweet subsidiary in 1982.
G.D. Searle & Company's chairman was William L. Searle until 1985. He was a
University of Michigan
graduate and Naval reservist, and was an officer in the Army Corps in the early 1950s.
[1]
Directors of G.D. Searle included Andre M. de Staercke, Reuben Richards, and Arthur Wood.
Donald Rumsfeld
served as CEO, and then as President, of Searle between 1977 and 1985. During his tenure at Searle, Rumsfeld
downsized
the number of employees in the company by 60%. The resulting spike in the company's bottom-line financials earned him awards as the Outstanding Chief Executive Officer in the Pharmaceutical Industry from the Wall Street Transcript (1980) and Financial World (1981). In 1985, he played an instrumental role in the acquisition of G.D. Searle & Company by Monsanto.
Notable products
The company manufactured prescription drugs and nuclear medicine imaging equipment. Searle is known for its release of
Enovid
, the
first commercial oral contraceptive
, in 1960. It is also known for its release of the first bulk laxative,
Metamucil
, in 1934;
Dramamine
, for motion sickness; the COX-2 inhibitor
Celebrex
;
Ambien
for insomnia; and NutraSweet, an artificial sweetener, in 1965. It was released in 1981 by FDA.
In 1996, the FDA removed all restrictions on the use of aspartame, which enabled its use in heated and baked goods. G.D. Searle's patent on aspartame was extended in 1981 and ultimately expired in December 1992.
[2]
This subject matter is taken from:
http://en.wikipedia.org/wiki/G._D._Searle_%26_Company
A side note:
After reading this bio on Rumsfeld and company does it seem that there might be a direct conflict of interest here? One might conclude that Rumsfeld jumping in and out of high governmental positions and high positions in pharmaceutical companies might have a direct correlation on drugs obtaining FDA approval. Noting that Reagan immediately replaced the FDA Commissioner Jere E. Goyan who did not approve Aspartame, with Arthur Hull Hayes, Jr. who finally did approve Aspartame as an alternative food sweetener.
The Dangerous Effects of Aspartame
Article courtesy of: Mark Gold, mgold@tiac.net (researcher for more than 20 years on such subjects)
Equal, Nutrasweet, Equal Measure, Spoonful, Canderal (E951)
Aspartame was not approved until 1981, in dry foods. For over eight years, the FDA refused to approve it because of the seizures and brain tumors this drug produced in lab animals. The FDA continued to refuse to approve it until President Reagan took office (a friend of Searle) and fired the FDA Commissioner who wouldn't approve it. Dr. Arthur Hull Hayes was appointed as commissioner. Even then, there was so much opposition to approval, that a Board of Inquiry was set up. The Board said: "Do not approve aspartame." Dr. Hayes OVERRULED his own Board of Inquiry.
Shortly after Commissioner Arthur Hull Hayes, Jr., approved the use of aspartame in carbonated beverages, he left for a position with G.D. Searle's Public Relations firm.
Long-term Damage
It [aspartame] appears to cause slow, silent damage in those unfortunate enough to not have immediate reactions and a reason to avoid it. It may take one year, five years, 10 years, or 40 years, but it seems to cause some reversible and some irreversible changes in health over long-term use.
Methanol [AKA wood alcohol/poison, 10 percent of aspartame]
Methanol/wood alcohol is a deadly poison. People may recall that methanol was the poison that has caused some "skid row" alcoholics to end up blind or dead. Methanol is gradually released in the small intestine when the methyl group of aspartame encounter the enzyme chymotrypsin.
The absorption of methanol into the body is sped up considerably when free methanol is ingested. Free methanol is created from aspartame when it is heated to above 86 Fahrenheit (30 Centigrade). This would occur when aspartame-containing product is improperly stored or when it is heated (e.g., as part of a "food" product such as Jello). Methanol breaks down into formic acid and formaldehyde in the body. Formaldehyde is a deadly neurotoxin. An EPA assessment of methanol states that methanol "is considered a cumulative poison due to the low rate of excretion once it is absorbed. In the body, methanol is oxidized to formaldehyde and formic acid; both of these metabolites are toxic." The recommend a limit of consumption of 7.8 mg/day. A one-liter (approx. 1 quart) aspartame-sweetened beverage contains about 56 mg of methanol. Heavy users of aspartame-containing products consume as much as 250 mg of methanol daily or 32 times the EPA limit.
The most well known problems from methanol poisoning are vision problems. Formaldehyde is a known carcinogen, causes retinal damage, interferes with DNA replication, and causes birth defects. Due to the lack of a couple of key enzymes, humans are many times more sensitive to the toxic effects of methanol than animals. Therefore, tests of aspartame or methanol on animals do not accurately reflect the danger for humans. As pointed out by Dr Woodrow C. Monte, Director of the Food Science and Nutrition Laboratory at Arizona State University, "There are no human or mammalian studies to evaluate the possible mutagenic, teratogenic, or carcinogenic effects of chronic administration of methyl alcohol."
It has been pointed out that fruit juices and alcoholic beverages contain small amounts of methanol. It is important to remember, that the methanol in natural products never appears alone. In every case, ethanol is present, usually in much higher amounts. Ethanol is an antidote for methanol toxicity in humans. The troops of Desert Storm were "treated" to large amounts of aspartame-sweetened beverages which had been heated to over 86 degrees F. in the Saudi Arabian sun. Many of them returned home with numerous disorders similar to what has been seen in persons who have been chemically poisoned by formaldehyde. The free methanol in the beverages may have been a contributing factor in these illnesses. Other breakdown products of aspartame such as DKP, may also have been a factor.
In a 1993 act that can only be described as "unconscionable," the FDA approved aspartame as an ingredient in numerous food items that would always be heated to above 86?degrees F (30 Degrees C). Much worse, on 27 June 1996, without public notice, the FDA removed all restrictions from aspartame allowing it to be used in everything, including all heated and baked goods.
The truth about aspartame's toxicity is far different than what the NutraSweet Company would have you readers believe. In February of 1994, the U.S. Department of Health and Human Services released the listing of adverse reactions reported to the FDA (DHHS 1994).
Aspartame accounted for more than 75% of all adverse reactions reported to the FDA's Adverse Reaction Monitoring System (ARMS).
By the FDA's own admission fewer then ONE PERCENT of those who have problems with something they consume ever report it to the FDA. This balloons the almost 10,000 complaints they once had to around a million. However, the FDA has a record keeping problem [they never did respond to the certified letter from the webmaster of this site - a major victim!] and they tend to discourage or even misdirect complaints, at least on aspartame. The fact remains, though, that MOST victims don't have a clue that aspartame may be the cause of their many problems! Many reactions to aspartame were very serious including seizures and death. Those reactions included: abdominal pain, anxiety attacks, arthritis, asthma, asthmatic reactions, bloating, edema (fluid retention), blood sugar control problems (hypoglycemia or hyperglycemia), brain cancer (pre-approval studies in animals), breathing difficulties, burning eyes or throat, burning urination, chest pains, chronic cough, chronic fatigue, confusion, death, depression, diarrhea, dizziness, excessive, thirst or hunger, fatigue, feel unreal, flushing of face, hair loss (baldness), or thinning of hair, headaches/migraines, dizziness, hearing loss, heart palpitations, hives (urticaria), hypertension (high blood pressure), impotency and sexual problems, inability to concentrate, infection susceptibility, insomnia, irritability, itching, joint pains, laryngitis, marked personality changes, memory loss, menstrual problems or changes, muscle spasms, nausea or vomiting, numbness or tingling of extremities, other allergic reactions, panic attacks, phobias, poor memory, rapid heart beat, rashes, seizures and convulsions, slurring of speech, swallowing pain, tachycardia, tremors, tinnitus, vertigo, vision loss, weight gain.
Aspartame disease mimics symptoms or worsens the following diseases
fibromyalgia, arthritis, multiple sclerosis (MS), Parkinson's disease, lupus, multiple chemical sensitivities (MCS), diabetes and diabetic complications, epilepsy, Alzheimer's disease, birth defects, chronic fatigue syndrome, lymphoma, lyme disease, attention deficit disorder (ADD), panic disorder, depression and other psychological disorders
Read the Official FDA document of 92 symptoms:
How it happens
Methanol, from aspartame, is released in the small intestine when the methyl group of aspartame encounters the enzyme chymotrypsin (Stegink 1984, page 143). Free methanol begins to form in liquid aspartame-containing products at temperatures above 86 degrees F.. also within the human body.
The methanol is then converted to formaldehyde. The formaldehyde converts to formic acid, ant sting poison. Toxic formic acid is used as an activator to strip epoxy and urethane coatings. Imagine what it does to your tissues!
Phenylalanine
and aspartic acid, 90% of aspartame, are amino acids normally used in synthesis of protoplasm when supplied by the foods we eat. But when unaccompanied by other amino acids we use [there are 20], they are neurotoxic.
That is why a warning for Phenylketonurics is found on EQUAL and other aspartame products. Phenylketenurics are 2% of the population with extreme sensitivity to this chemical unless it's present in food. It gets you too, causing brain disorders and birth defects! Finally, the phenyalanine breaks down into DKP, a brain tumor agent.
In other words: Aspartame converts to dangerous byproducts that have no natural countermeasures. A dieter's empty stomach accelerates these conversions and amplifies the damage. Components of aspartame go straight to the brain, damage that causes headaches, mental confusion, seizures and faulty balance. Lab rats and other test animals died of brain tumors.
Despite the claims of Monsanto and bedfellows:
*Methanol from alcohol and juices does not get converted to formaldehyde to any significant extent. There is very strong evidence to confirm this fact for alcoholic beverages and fairly strong evidence for juices.

*Formaldehyde obtained from methanol is very toxic in "very small" doses as seen by recent research.

*Aspartame causes chronic toxicity reactions/damage due to the methanol to formaldehyde and other break down products despite what is claimed otherwise by the very short, industry-funded experiments using a test substance that is chemically different and absorbed differently than what is available to the general public. "Strangely enough", almost all independent studies show that aspartame can cause health problems.

*A common ploy from Monsanto is to claim that aspartame is "safe" yet a few select people may have "allergic" reactions to it. This is typical Monsanto nonsense, of course. Their own research shows that it does not cause "allergic" reactions. It is there way of trying to minimize and hide the huge numbers of toxicity reactions and damage that people are experiencing from the long-term use of aspartame.

Summary:
Given the following points, it is definitely premature for researchers to discount the role of methanol in aspartame side effects:
*The amount of methanol ingested from aspartame is unprecedented in human history. Methanol from fruit juice ingestion does not even approach the quantity of methanol ingested from aspartame, especially in persons who ingest one to three liters (or more) of diet beverages every day. Unlike methanol from aspartame, methanol from natural products is probably not absorbed or converted to its toxic metabolites in significant amounts as discussed earlier.

*Lack of laboratory-detectable changes in plasma formic acid and formaldehyde levels do not preclude damage being caused by these toxic metabolites. Laboratory-detectable changes in formate levels are often not found in short exposures to methanol.

*Aspartame-containing products often provide little or no nutrients which may protect against chronic methanol poisoning and are often consumed in between meals. Persons who ingest aspartame-containing products are often dieting and more likely to have nutritional deficiencies than persons who take the time to make fresh juices.

*Persons with certain health conditions or on certain drugs may be much more susceptible to chronic methanol poisoning.

*Chronic diseases and side effects from slow poisons often build silently over a long period of time. Many chronic diseases which seem to appear suddenly have actually been building in the body over many years.

*An increasing body of research is showing that many people are highly sensitive to low doses of formaldehyde in the environment. Environmental exposure to formaldehyde and ingestion of methanol (which converts to formaldehyde) from aspartame likely has a cumulative deleterious effect.

*Formic acid has been shown to slowly accumulate in various parts of the body. Formic acid has been shown to inhibit oxygen metabolism.

*The are a very large and growing number of persons are experiencing chronic health problems similar to the side effects of chronic methanol poisoning when ingesting aspartame-containing products for a significant length of time. This includes many cases of eye damage similar to the type of eye damage seen in methanol poisoning cases.

Toxicity Effects of Aspartame Use Selection of Health Effects from Short-term and/or Long-Term Use Note:
It often takes at least 60 days without any aspartame NutraSweet to see a significant improvement. Check all labels very carefully (including vitamins and pharmaceuticals). Look for the word "aspartame" on the label and avoid it. (Also, it is a good idea to avoid "acesulfame-k" or "sunette.") Finally, avoid getting nutrition information from junk food industry PR organizations such as IFIC or organizations that accept large sums of money from the junk and chemical food industry such as the American Dietetic Association.
If you are a user of any products with aspartame, and you have physical, visual, mental problems… take the 60-day no aspartame test. If, after two months with no aspartame your symptoms are either gone, or are much less severe, please get involved to get this neurotoxin off the market. Write a letter to the FDA, with a copy to Betty Martini (for proof of how the FDA doesn't keep proper records). Write your congressmen. Return products containing aspartame to the point of purchase – for a FULL refund. Make a big stink if they WON'T give you a full refund! Tell all your friends and family… and if they stop using aspartame and also "wake up well"… get them involved in the same way.
Aspartame is an "approved sweetener" because of a few greedy and dishonest people who place profits above human life and well-being. With the FDA and our Congress culpable, only an INFORMED and ACTIVE public will affects its reclassification from "food additive" to TOXIC DRUG, and removed from the human food chain.
Link to a printable report form:
Addresses:
Commissioner
Food and Drug Administration
5600 Fishers Lane
Rockville, Maryland 20857
Mrs. Betty Martini
Mission Possible
International
9270 River Club Parkway
Duluth, Georgia 30097
Internet E-mail:
bettym19@mindspring.com
Links for additional information:
Note from Dave:
Now that you are aware of the 92 FDA recognized symptoms (that required a Freedom Of Information Act request to pry from their reluctant hands) and HOW aspartame does its dirty work, change to my Official Dogma page. On this page Mark Gold has taken the IFIC "Official" aspartame safety myth and shot it full of holes using all of the smoking guns that were used by the FDA to approve this poison as a food additive, along with information they either ignored or discounted. This excellent debunking of the official FDA/Monsanto/Searle/Nutrasweet/ Nutrasweet Kelco/AMA/ADA/IFIC/ chain of lies and half truths includes a long history of this "product's" sordid trail to the marketplace and the sweet tooth.
By 1984, three years after its initial approval for use in tabletop sweeteners and dry food, U.S. consumption of aspartame had already reached 6.9 million pounds per year. This number doubled the following year, and continued to climb well into the 90's.
According to
statistics published by Forbes Magazine
[i]
based on Tate & Lyle estimates, aspartame had conquered 55 percent of the artificial sweetener market in 2003. One of the driving factors behind aspartame's market success is the fact that since it is now off patent protection, it's far less expensive than other artificial sweeteners like sucralose (Splenda).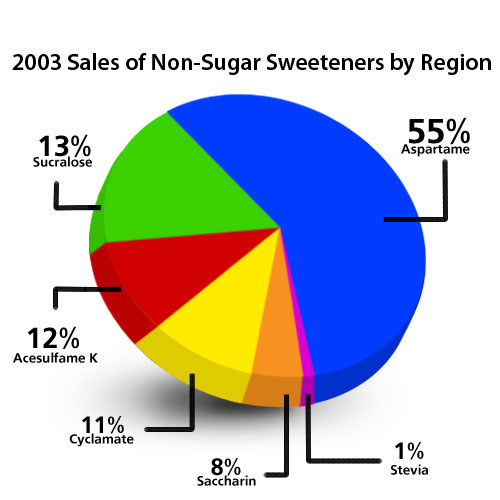 Today, the statistics on the aspartame market are being kept so close to the vest, it has proven to be virtually impossible to find current data on usage, unless you're willing to pay tens of thousands of dollars for a market analysis reports and I felt there were better uses for the money than to purchase the answer to that question.
However, a 2009
FoodNavigator article
[ii]
cites the current global market for aspartame as being less than 37.5 million pounds and worth $637 million.
According to
aspartame.org
[iii],
diet soda accounts for 70 percent of the aspartame consumed. A 12 ounce can of diet soda contains 180 mg of aspartame, and aspartame users ingest an average of 200 mg per day.
However, it can be quite difficult to calculate just how much you're really ingesting, especially if you consume several types of aspartame-containing foods and beverages. Dosing can vary wildly from product to product. For example, the amount of aspartame will vary from brand to brand, and from flavour to flavour. Some can contain close to twice the amount of aspartame as others, and some contain a combination of aspartame and other artificial sweeteners.
Interestingly, aspartame consumption now seems to have stalled, and there is some indication it may even be on the decline. Perhaps sufficient numbers of people are finally waking up to the unsavory truth about this chemical sweetener. It is my intention to educate you about the truth of this harmful and toxic ingredient and drive sales down even further. I have no ulterior motives other than to warn you so that you can protect your and your family's health, and I sell no competing products.
The only alternative sweetener I recommend is natural stevia, especially the flavoured ones which avoid many of the aftertaste objections some people have about using stevia. It is interesting to note that the powerful food industry has made it illegal to sell natural stevia as a sweetener. If I recommended to use stevia as a sweetener and sold it, the government would immediately file criminal charges and confiscate our product.
On December 17, 2008, the
FDA did grant GRAS (Generally Recognized as Safe) status to rebaudioside
, which is one component of the whole stevia plant, and this specific purified component of stevia may be used as a food additive and sold as an alternative sweetener. Examples of include Truvia and Purevia. The jury is still out, however, on
whether consuming this one component of stevia is as safe as consuming extract from the whole plant
, as all the synergistic, protective factors have been removed in these refined products.
Thankfully there is a loophole that allows vendors to sell extract of whole stevia as a dietary supplement. Since virtually everyone knows it is a sweetener it doesn't have to say it on the label, so you can still bypass this industry initiated censorship.
Ajinomoto, one of the leading aspartame manufacturers in the world next to NutraSweet,
actually rebranded aspartame to AminoSweet
[iv]
last year, in order to dissociate itself from the negative associations of aspartame.
It also wanted to "remind the industry that aspartame tastes just like sugar, and that it's made from amino acids -- the building blocks of protein that are abundant in our diet," -- as opposed to a concoction of chemicals never before consumed by man, some ingredients of which are more toxic than others. They will probably deceive some consumers with this newer, more sweetly innocent name that does not bear the same controversial past as the word "aspartame." But I sincerely doubt they'll fool anyone even remotely aware of its dangers.
Aspartame can already be found in some 6,000 food products and beverages, and the list is about to get even longer, I'm sure, as
Ajinomoto announced a global R&D alliance agreement with Kellogg Company
[v]
earlier this month.
Researchers Continue to Contest 'the Most Contested' FDA Approval in History
Concerned scientists and researchers fought and were successful in keeping aspartame out of the food supply for over ten years, ever since it was first considered as a potential food additive, and many of those still alive continue to speak out against it today.
If we fail to learn from history we are doomed to repeat the mistake we made. Many readers have long forgotten what the 60-Minutes' correspondent
Mike Wallace
stated in his 1996 report on aspartame - available to
view in this 2009 article
- that the approval of aspartame was "the most contested in FDA history." And for good reason.
At the time, independent studies had found it caused brain cancer in lab animals, and the studies submitted by G.D. Searle to the FDA for the approval were quickly suspected of being sloppy at best...
In that 60-Minutes video,
former Senator Howard Metzenbaum
states:
"According to the FDA themselves, Searle, when making their presentation to the FDA, had willfully misrepresented the facts, and withheld some of the facts that they knew would possibly jeopardize the approval."
Metzenbaum's staff investigated the aspartame approval process. He goes on to explain that:
"FDA officials were so upset they sent the file to the U.S. Attorney's office in Chicago for the purposes of presenting it to the grand jury as to whether or not there should be indictments.
But it wasn't presented. It was delayed."
Samuel Skinner, the U.S. attorney who led the grand jury probe ended up withdrawing from the case when he entered into job discussions with Searle's Chicago law firm, Sidley & Austin - a job he later accepted. Subsequently, the investigation stalled until the statute of limitation ran out, at which point the investigation against Searle was dropped.
For more details on the story of how aspartame made it through the FDA approval process despite warning signs of potential health hazards and alleged scientific fraud, please
watch the 60-Minutes report
, as Wallace does a nice job of summarizing an otherwise long story.
There are a number of well-written books on the market that detail the twists and turns of this part of history. This
Harvard law summary of the legal wrangling
[vi]
that took place is also a worthwhile read.
Those who claim that aspartame watch-dogs are somehow engaged in conspiracy theories, perhaps do not understand the word "conspiracy," the simplest definition of which is: "a secret agreement between two or more people to perform an unlawful act." In the case of aspartame, it sure does look as though it was a conspiracy -- by G.D. Searle & Co., to get a tremendously profitable product to market, no matter what the potential cost in terms of human health.
The FDA itself suspected Searle had unlawfully produced "evidence" to support its claims of safety, and FDA officials were sufficiently disturbed by what they received to launch its first-ever criminal investigation. A section in the Harvard Law School summary on the history of aspartame states:
"Another study that engendered severe criticism from the Department of Health Education and Welfare was the 46- week toxicity study performed on the hamster.

Although the data appears to be faulty and incomplete, Searle argues that any falsehood in the study is not material to the appraisal of the safety of aspartame."
How's that for assurance?
"...In addition to criticizing the study as a whole, the Department alleges that Searle violated Title 18, Section 1001 by falsifying data. The report alleges that the testing ran into problems and instead of correcting them, Searle covered the problem up."
FDA toxicologist, M. Jacqueline Verrett, Ph.D., discussed what she knew about some of these concerns in her testimony before Congress on November 3, 1987 (
S.hrg;100-567
).
Verrett's individual testimony is
reprinted here
, in which she states:
"From 1957-1977 I was employed as a Biochemist/Toxicologist in what is now designated the Center for Food Safety and Applied Nutrition of the Food and Drug Administration.
... In the early l970's, I examined the animal studies submitted by G. D. Searle and Co. on aspartame prior to the initial approval by FDA in l974... these studies raised numerous questions in a number of areas that needed to be resolved before approval of aspartame for any food additive use.
In 1977 I served as a member of an FDA team... charged with examining three studies... to determine if they were 'authentic'. I wish to emphasize at this point that we were specifically instructed not to be concerned with, or comment upon, the overall validity of the study, this was to be done in a subsequent review carried out at the Bureau level.
It is apparent that that review, on a point by point basis, discarded or ignored the problems and deficiencies outlined in this Team report, and concluded that, even in toto, these problems were insufficient to render the study invalid. It also appears that the serious departures from acceptable toxicological protocols that were noted in the reevaluation of these studies were also discounted."
Verrett goes on to point out a number of the "deficiencies and improper procedures encountered" by her investigative team, which included but were not limited to:
*Animals were not permanently tagged to avoid mix-ups
*Tumors were removed and the animals returned to the study
*Animals were recorded as dead, but subsequent records, after varying periods of time, indicated the same animal was still alive (almost certain evidence of mix-ups)
*Many animal tissues were decomposed before any postmortem examinations were performed
"Almost any single one of these aberrations would suffice to negate a study designed to assess the safety of a food additive," Verrett said, "and most certainly a combination of many such improper practices would, since the results are bound to be compromised.
It is unthinkable that any reputable toxicologist, giving a completely objective evaluation of data resulting from such a study, could conclude anything other than that the study was uninterpretable and worthless,and should be repeated.
This is especially important for an additive such as aspartame, which is equally vital since DKP is a major breakdown product of aspartame in liquid media.
Not only is aspartame being used in the absence of basic toxicity information, but there is also no data to assess the toxicity of the interactions of DKP with the excess phenylalanine generated, with any other metabolite of aspartame, and its interactions with other additives, drugs, or other chemicals which may be present simultaneously in persons exposed to high levels of DKP in presweetened liquids such as diet drinks."
Many critics are using the lack of toxicity data as proof that aspartame is safe, when in fact aspartame appears to have been approved WITHOUT such data - which in my opinion is just another sign of aspartame's inherent LACK of empirical safety record...
Which brings us to a crucial point.
If you do not know this fact, you may never be able to extract the truth, because the 200+ studies that form the basis of aspartame's multiple FDA approvals DO exist. Those studies were published, and are quite easy to find as they're cited by every single conventional health agency and every single aspartame peddler across the world. No one is trying to refute the fact that they exist.
However, they were ALL funded by the aspartame industry.
And guess what happens when you remove corporate interest and influence from the equation...

All Industry-Funded Studies Give Aspartame Clean Bill of Health, While Majority of Independent Research Find Indications of Hazards
A 1996 review of 165 studies
[vii]
[viii]
believed to be relevant to human safety, by
Dr. Ralph G. Walton
, a professor of Clinical Psychiatry, showed a remarkable discrepancy between study results and their source of funding.
Of the 165 studies, 74 had industry related funding (such as Searle, Nutrasweet®, Ajinomoto, and the International Life Sciences Institute Nutrition Foundation), and 91 were independently funded.
Of those:
*100 percent of the industry funded studies supported aspartame's safety, while
*92 percent of the independently funded studies identified at least one potential health concern
However,
Dr. Walton also pointed out
that of the seven remaining non-industry funded studies, which supported aspartame's safety, six were done by the FDA, and the seventh was a literature review of mostly industry sponsored research.
Considering the long-standing revolving door between various industries (especially
Monsanto, which acquired G.D. Searle in 1985
) and the FDA, it's questionable as to whether an FDA study can be considered truly "independent," even though they were counted as independent in Walton's review.
If you give that concern any merit, you'd more or less be looking at 100% of industry related studies claiming aspartame to be safe, and 100% of independent studies flagging some sort of health concern.
If this doesn't make you raise an eyebrow, then no need to read any further. You've slipped comfortably into the all-accepting fold of corporate self-interests, created by massively successful propaganda and public relations efforts, backed by powerful political lobbying.
Only you can decide whether or not you find this discrepancy to be acceptable evidence of rigorous scientific inquiry.
If it makes you question the validity of aspartame's "100% safe" designation, then read on...
Your Brain on Aspartame
In the Sweet Misery video above,
Dr. Russell Blaylock
, a recently retired board-certified neurosurgeon and author of the book
Excitotoxins: The Taste That Kills
, says that because aspartame is "a poison that affects protein synthesis; affects how the synapses operate in the brain, and affects DNA, it can affect numerous organs. So you can get many different symptoms that seem unconnected."
However, "when looking at the list of symptoms submitted to the FDA, most of them are neurological," Dr. Blaylock says.
He's referring to a Department of Health and Human Services report that categorizes 10,000 adverse reaction reports logged by the FDA (Department of Health and Human Services Quarterly Report on Adverse Reactions Associated with Aspartame Ingestion, DHHS, Washington, DC, October 1, 1986), published here in a
24-page primer on aspartame
by Donald Harkins
[ix],
the former editor and publisher of the Idaho Observer.
Two years prior to that, a
CDC MMWR dated November 2, 1984
[x]
, discusses several hundred adverse reaction reports received, and at that time, the majority -- 67 percent - of complainants also reported neurological/behavioral symptoms.
Some of the most commonly reported neurological symptoms include:
*Headaches
*Changes in behavior or mood
*"Fuzzy" thinking
*Seizures
*Depression[xi]
A 1987 study published in the journal Environmental Health Perspectives
[xii]
states:
"If only 1% of the 100,000,000 Americans thought to consume aspartame ever exceed the sweetener's ADI, and if only 1% of this group happen coincidentally to have an underlying disease that makes their brains vulnerable to the effects of an aspartame-induced rise in brain phenylalanine levels, then the number of people who might manifest adverse brain reactions attributable to aspartame would still be about 10,000, a number on the same order as the number of neutrally related consumer complaints already registered with the FDA and other federal agencies."
[Note: the ADI for aspartame is 50 mg/kg of body weight in the US. ADI in Europe and Canada is 40 mg/kg of body weight. ]
Published in the
European Journal of Clinical Nutrition in 2008
[xiii],
a South African study offers further information on the potential workings of aspartame on your brain:
"Phenylalanine plays an important role in neurotransmitter regulation, whereas aspartic acid is also thought to play a role as an excitatory neurotransmitter in the central nervous system.
Glutamate, asparagines and glutamine are formed from their precursor, aspartic acid.
Methanol, which forms 10 % of the broken down product, is converted in your body to formate, which can either be excreted or can give rise to formaldehyde, diketopiperazine (a carcinogen) and a number of other highly toxic derivatives.
Previously, it has been reported that consumption of aspartame could cause neurological and behavioral disturbances in sensitive individuals. Headaches, insomnia and seizures are also some of the neurological effects that have been encountered, and these may be accredited to changes in regional brain concentrations of catecholamines, which include norepinephrine, epinephrine and dopamine.
The aim of this study was to discuss the direct and indirect cellular effects of aspartame on the brain, and we propose that excessive aspartame ingestion might be involved in the pathogenesis of certain mental disorders (DSM-IV-TR 2000) and also in compromised learning and emotional functioning."
There has been loads of conflicting "science" regarding the metabolism of methanol. The emerging evidence suggests that it may be a toxic poison that is one of the leading contributing factors for MS, and that some of the research is subsidized by the producers of methanol to make it appear less harmful.
I hope to an interview in the near future with an expert to review and clarify these details.
Aspartame and Headaches
The Sweet Misery documentary also includes
Dr. H.J. Roberts M.D
., a board-certified internist and author of
Aspartame Disease: An Ignored Epidemic
, who does a fine job of explaining, in layman's terms, what aspartame is made of, and how patients have, and can, test their vulnerability to this chemical using cessation and rechallenge. (I will also offer further suggestions on how to do this at the end of this article.)
This type of anecdotal evidence, which critics love to dismiss as silly nonsense, can nonetheless be invaluable to the individual in question, as you can clearly discover whether there's a direct cause and effect on your body from consuming aspartame.
Dr. H.J. Roberts is one of several expert investigators on aspartame and has testified before congress on the topic of aspartame safety.
In a document titled,
Professional Opinion of H.J. Roberts, M.D., F.A.C.P., F.C.C.P., Concerning Headaches Caused by the Use of Products Containing Aspartame
, he states that:
"People who suffer aspartame-induced headache are likely to encounter denial of this condition by physicians, the FDA and manufacturers.
This situation is largely influenced by "negative scientific studies" sponsored by corporate interests.
I have repeatedly challenged the nature of such studies, especially when the aspartame was administered as capsules or freshly-prepared cool solutions rather than "real world" products, namely soft drinks and other products sold in markets that undergo changes on exposure to high temperature or with storage of more than one or two months."
One study commonly cited by industry to refute the claim that aspartame causes headaches is the
1987 NEJM study
[xiv]
which concluded that "aspartame is no more likely to produce headache than placebo."
However, this study, again, has financial ties to Monsanto (owner of G.D. Searle), and the aspartame was given in capsule form, for one day...
There are a number of studies that point to concerns related to aspartame's detrimental impact on neurological function.
Under Sources above, you will find a link to a page on my site where I've created a list of studies, sorted by the health concern they pertain to, and headaches is just one of many potential concerns. That page is evolving, and I will continue to add to it as I find more relevant studies.
In my follow-up article, I will foray into a couple of the other health problems associated with aspartame.
Taking the Precautionary Principle into Account
Any good scientist, and any skeptic worth their own weight, would follow the evidence to its logical conclusion, no matter where it leads. Unfortunately, we have overwhelming evidence showing that it's nearly
impossible to be impartial when your paycheck is on the line
. Any corporation that pays you to investigate their product wants you to produce favorable results, and we know that powerful corporations can make these desires well understood by those who work for them.
Likewise, any good doctor or health professional would adhere to the Hippocratic Oath that says, "First, do no harm." Yet here we have a chemical sweetener being added to some 6,000 food products, which, due to its sheer prevalence and fervent backing by the conventional medical industry and health agencies, has the potential to harm a vulnerable section of the population.
You're told it is perfectly safe. (Unless you have a genetic disease called phenylketonuria (PKU), which prevents you from digesting the amino acid phenylalanine. An estimated 1 out of every 15,000 people are born with PKU. This is why aspartame containing products bear a warning label stating the product contains phenylalanine.)
But do you know whether or not you have phenylketonuria, or are part of any other "generally vulnerable" group of people?
Wouldn't you want to know if you might be at risk?
And if you knew you were vulnerable to its toxic effects, would you still consume high amounts of aspartame?
If you were not, but you knew that a family member or friend was part of that vulnerable subgroup, would you warn them?
These are simple questions that tend to get completely lost in the pro- versus anti-aspartame debate.
Do you think it's acceptable to willfully sacrifice those who are more vulnerable by issuing no warnings whatsoever? And worse -- pulling the wool over their eyes and saying aspartame has no related health hazards whatsoever, even at very high amounts?
I think not.
Consider the
1986 review of 231 adverse reactions to aspartame
[xv],
which found "no clear symptom complex that suggests a widespread public health hazard associated with aspartame use." Yet in the following sentence, the researchers admit that:
"...in some case reports... the symptoms may be attributable to aspartame in commonly-consumed amounts.
The systematic application of pre-defined review criteria, such as those described here, to monitor consumer complaints related to food additives will help identify products that warrant more focused clinical studies."
Staunch aspartame promoters pay no attention to that part - the part that states a certain number of individuals may indeed suffer health consequences, even from commonly-consumed amounts.
They also pay no attention to the fact that this review occurred a mere three years after the US became saturated with aspartame-containing beverages. Today we have thousands upon thousands of adverse reaction reports, anecdotal reports, and physician's case histories...
These people are indeed being sacrificed, without remorse whatsoever, by those hiding behind supremely biased, profit-driven,
industry-funded research
.
The conventional medical establishment and our health agencies are frightfully resistant to the possibility that aspartame may have anything to do with health problems - after all, aspartame is FDA approved and has been "safely used" for years!
I have one word for you - Vioxx.
Just one of a multitude of FDA-approved products that -- lo and behold - killed tens of thousands of people while the establishment reiterated the industry-funded "scientific evidence" that was the basis for its widespread use.
Are Your Health Problems Related to Aspartame Consumption?
You might not realize you're having a reaction to aspartame. In fact, most people don't make the connection, and a tremendous amount of time and money is spent by aspartame "reactors" (people sensitive to the chemical), trying to find out why they are sick.
To determine if you're a reactor, take the following steps:
1. Eliminate all artificial sweeteners from your diet two weeks. (Note: If you typically consume aspartame in caffeinated drinks, you'll want to gradually reduce your intake in order to avoid caffeine withdrawal symptoms.)
2. After two weeks of being artificial sweetener-free, reintroduce aspartame in a significant quantity (about three servings daily) and avoid other artificial sweeteners during this period.
3. Do this for one to three days and notice how you feel, especially as compared to when you were consuming no artificial sweeteners.
4. If you don't notice a difference in how you feel after re-introducing aspartame, it's a safe bet you're able to tolerate aspartame acutely, meaning your body doesn't have an immediate, adverse response. However, this doesn't mean your health won't be damaged in the long run by this chemical and its breakdown products.
I'm not trying to deny anyone the pleasure of life that is generated from consuming sweets. However, to promote aspartame to the population at large, without warning that a certain percentage of people may suffer terribly from its consumption is a reckless, irresponsible ethical breech, and clearly contributes to much unnecessary suffering in exchange for hundreds of millions of dollars of profit..
In the end it's up to you to decide what you want to put into your body. Just make it an educated decision.
Aspartame is the most controversial food additive in history, and its approval for use in food was the most contested in FDA history. In the end, the artificial sweetener was approved, not on scientific grounds, but rather because of
strong political and financial pressure
. After all, aspartame was previously listed by the Pentagon as a biochemical warfare agent!
It's hard to believe such a chemical would be allowed into the food supply, but it was, and it has been wreaking silent havoc with people's health for the past 30 years.
The truth is, it should never have been released onto the market, and allowing it to remain in the food chain is seriously hurting people -- no matter how many times you rebrand it under fancy new names.
The Deceptive Marketing of Aspartame
Sold commercially under names like NutraSweet, Canderel and now AminoSweet, aspartame can be found in more than 6,000 foods, including soft drinks, chewing gum, table-top sweeteners, diet and diabetic foods, breakfast cereals, jams, sweets, vitamins, prescription and over-the-counter drugs.
Aspartame producer Ajinomoto chose to rebrand it under the name AminoSweet, to "remind the industry that aspartame tastes just like sugar, and that it's made from amino acids -- the building blocks of protein that are abundant in our diet."
This is deception at its finest: begin with a shred of truth, and then spin it to fit your own agenda.
In this case, the agenda is to make you believe that aspartame is somehow a harmless, natural sweetener made with two amino acids that are essential for health and present in your diet already.
They want you to believe aspartame delivers all the benefits of sugar and none of its drawbacks. But nothing could be further from the truth.
How Aspartame Wreaks Havoc on Your Health
Did you know there have been more reports to the FDA for aspartame reactions than for all other food additives combined?
In fact, there are over 10,000 official complaints, but by the FDA's own admission, less than 1 percent of those who experience a reaction to a product ever report it. So in all likelihood, the toxic effects of aspartame may have affected roughly a million people already.
While a variety of symptoms have been reported, almost two-thirds of them fall into the neurological and behavioral category consisting mostly of headaches, mood alterations, and hallucinations. The remaining third is mostly gastrointestinal symptoms.
This chart will familiarize you with some of the terrifying side-effects and health problems you could encounter if you consume products containing this chemical.
Unfortunately, aspartame toxicity is not well-known by doctors, despite its frequency. Diagnosis is also hampered by the fact that it mimics several other common health conditions, such as: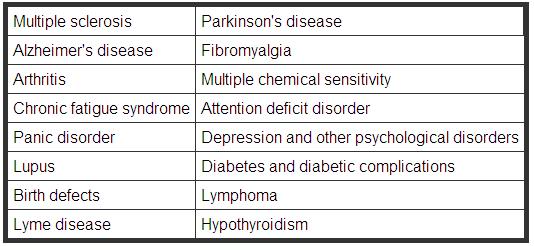 How Diet Foods and Drinks CAUSE Weight Problems
In recent years, food manufacturers have increasingly focused on developing low-calorie foods and drinks to help you maintain a healthy weight and avoid obesity. Unfortunately, the science behind these products is so flawed, most of these products can actually
lead to increased weight gain
!
For example, researchers have discovered that drinking
diet soda increases your risk of metabolic syndrome
, and may
double your risk of obesity
-- the complete opposite of the stated intention behind these "zero calorie" drinks.
The sad truth is that diet foods and drinks
ruin your body's ability to count calories
, and in fact
stimulate your appetite
, thus boosting your inclination to overindulge.
Unfortunately, most public health agencies and nutritionists in the United States recommend these toxic artificial sweeteners as an acceptable alternative to sugar, which is at best confusing and at worst harming the health of those who take their misguided advice.
Even More Toxic Dangers of Aspartame
Truly, there is enough evidence showing the dangers of consuming artificial sweeteners to fill an entire book -- which is exactly why I wrote
Sweet Deception
. If you or your loved ones drink diet beverages or eat diet foods, this book will explain how you've been deceived about the truth behind artificial sweeteners like aspartame and sucralose -- for greed, for profits, and at the expense of your health.
As mentioned earlier, almost two-thirds of all documented side effects of aspartame consumption are neurological.
One of the reasons for this side effect, researchers have discovered, is because the phenylalanine in aspartame dissociates from the ester bond. While these amino acids are indeed completely natural and safe, they were never designed to be ingested as isolated amino acids in massive quantities, which in and of itself will cause complications.
Additionally this will also increase dopamine levels in your brain. This can lead to symptoms of depression because it distorts your serotonin/dopamine balance. It can also lead to migraine headaches and brain tumors through a similar mechanism.
The aspartic acid in aspartame is a well-documented
excitotoxin
. Excitotoxins are usually amino acids, such as glutamate and aspartate. These special amino acids cause particular brain cells to become excessively excited, to the point that they die.
Excitotoxins can also cause a loss of brain synapses and connecting fibers. A review conducted in 2008 by scientists from the University of Pretoria and the University of Limpopo found that consuming a lot of aspartame may inhibit the ability of enzymes in your brain to function normally, and may lead to neurodegeneration.
According to the researchers, consuming a lot of aspartame can disturb:
The metabolism of amino acids
Protein structure and metabolism
The integrity of nucleic acids
Furthermore, the ester bond in aspartame breaks down to formaldehyde and methanol, which are also toxic in their own right. So it is not surprising that this popular artificial sweetener has also been
found to cause cancer
.
One truly
compelling case study
that shows this all too well was done by a private citizen named Victoria Inness-Brown. She decided to perform
her own aspartame experiment
on 108 rats over a period of 2 years and 8 months.
Daily, she fed some of the rats the equivalent (for their body weight) of two-thirds the aspartame contained in 8-oz of diet soda. Thirty-seven percent of the females fed aspartame developed tumors, some of massive size.
How to Ditch Artificial Sweeteners, and Satiate Your Sweet Tooth
If you suffer from sweet cravings, it's easy to convince yourself you're doing the right thing by opting for a zero-calorie sweetener like aspartame. Please understand that you will do more harm than good to your body this way.
First, it's important to realize that your body craves sweets when you're not giving it the proper fuel it needs.
Finding out your
nutritional type
will tell you exactly which foods you need to eat to feel full and satisfied. It may sound hard to believe right now, but once you start eating right for your nutritional type, your sweet cravings will significantly lessen and may even disappear.
Meanwhile, be sure you address the emotional component to your food cravings using a tool such as the
Meridian Tapping Technique (MTT).
More than any traditional or alternative method I have used or researched, MTT works to overcome food cravings and helps you reach dietary success.
And, if diet soda is the culprit for you, be sure to check out
Turbo Tapping
, which is an extremely effective and simple tool to get rid of your soda addiction in a short period of time.
Non-Acceptable Alternative Sweeteners
I have written a few articles on
fructose
earlier this year, and I will be writing many more, so please be aware that I am absolutely convinced that fructose ingestion is at the core of our obesity epidemic.
And I'm not only talking about high fructose corn syrup, which is virtually identical to table sugar. The only major difference between the two is HFCS is much cheaper so it has contributed to massive increase in fructose ingestion, far beyond safe or healthy.
Please understand you need to keep your fructose levels BELOW 25 grams per day. The best way to do that is to avoid these "natural" sweeteners as they are loaded with a much higher percentage of fructose than HFCS.
Please note that avoiding these beyond 25 grams per day is crucial, even if the source is fresh, raw, and organic. It just doesn't matter, fructose is fructose is fructose ...
Acceptable Alternative Sweeteners
For those times when you just want a taste of something sweet, your healthiest alternative is
Stevia
. It's a natural plant and, unlike aspartame and other artificial sweeteners that have been cited for dangerous toxicities, it is a safe, natural alternative that's ideal if you're watching your weight, or if you're maintaining your health by avoiding sugar.
It is hundreds of times sweeter than sugar and truly has virtually no calories.
I must tell you that I am biased; I prefer Stevia as my sweetener of choice, and I frequently use it. However, like most choices, especially sweeteners, I recommend using Stevia in moderation, just like sugar. In excess it is still far less likely to cause metabolic problems than sugar or any of the artificial sweeteners.
I want to emphasize, that if you have insulin issues, I suggest that you avoid sweeteners altogether, including Stevia, as they all can decrease your sensitivity to insulin.
Lo han is another sweetener like Stevia. It's an African sweet herb that can also be used, but it's a bit more expensive and harder to find.
So if you struggle with high blood pressure, high cholesterol, diabetes or extra weight, then you have insulin sensitivity issues and would benefit from avoiding ALL sweeteners.
But for everyone else, if you are going to sweeten your foods and beverages anyway, I strongly encourage you to consider using regular Stevia or Lo han, and toss out all artificial sweeteners and any products that contain them.
If you have experienced an adverse reaction to any aspartame product,
call the FDA Consumer Complaint Coordinator
in your area.
Dr. Joseph Mercola is the founder and director of
Mercola.com
. Become a fan of
Dr. Mercola on Facebook
, on
Twitter
and check out
Dr. Mercola's report on sun exposure!
Follow Dr. Joseph Mercola on Twitter: www.twitter.com/mercola
Aspartame is it good for You
73
rate or flag this page
Tweet this
Aspartame is it really good for you
Today many of our
health
concerns seem to be caused by conveniences. With the increased use of artificial sweeteners,and sugars which can be harmful to our health.
Sugar actually drains the body of vitamins,minerals and
nutrients
. How does it do this? Easy our body has to use up these nutrients in order to burn up the sugar for energy. Sugar also adds stress to our pancreas by causing it to produce unneeded digestive enzymes.
Populations studies have linked sugar consumption with
diabetes
and heart disease.When a body has too much sugar it automatically trys to protect itself and converts it into fat.
Natural sugars though are not your worst enemy. Apparently 75% of adverse reactions,reported to the US
Food
and Drug Administration, come from the artificial sweetener "aspartame".
Aspartame is marketed as,Nutrasweet,Equal,Spoonful,and Equal-Measure.
This artificial sweetener is made up of toxic chemicals:aspartic acid,phenylalanine and methanol.There is nothing sweet about these chemicals. Aspartame users report headaches,numbness,seizures,joint pain,chronic fatigue,multiple sclerosis and epilesy.
Dr Russell L Baylock
,a professor of Neurosurgery at the Medical
University
of Mississippi wrote a book,
Excitotoxins:The Taste That Kills
.In his book he explains that aspartame is a neurotransmitter facilitating the transmission of information from on neuron to another neuron. Aspartame allows too much calcium into brain cells,killing certain neurons.
With aspartame in over 9000 products it comes as no surprise that there is a rise in memory loss,Alzheimer and multiple sclerosis.The "Monsanto" company that manufactures asparame is looking for a drug to combat memory loss caused by excitatory amino acid damage most often caused by aspartame.
Now Phenylalanine a by product of aspartame
metabolism
,is a amino acid normally present in the brain.Most of us have heard of PKU testing done on infants.It is a condition where phenylalanine cannot be metabolized and it can lead to death.It has been shown that excess amounts of phenylalanine in the brain can cause serotonin levels to decrease. Perhaps with the soft drinks and processed foods we consume that use aspartame it could be contributing to the need for drugs like prozac andd zoloft.
Dr Baylock writes that the Massachusetts Institute of technology surveyed 80 people who suffered seizures after ingesting aspartame.The Community
Nutrition
Institute concluded that these cases met the FDA definition of imminent hazard to public health,but the FDA did nothing to remove the product.
Did you know that both the Air Force magazine,Flying Safety and Navy Physiology,detailed warnings about pilots being more susceptible to seizures after consuming aspartame.The Aspartame Consumer Network,noted that 600 pilots have reported acute reactions to aspartame while in the cockpit!
Methanol a by-product of aspartame results in free methanol when heated above 86 degrees F. If you cook a sugar free pudding that contains aspartame.you are creating free methanol,or wood alcohol. Wood alcohol can lead to blindness and even death. One quart of aspartame sweetened beverage contain about 56mg of methanol. The EPA states that methanol is considered a cumulative poison due to the low rate of excretion once absorbed.
After methanol enters the body it breaks down into formic acid and formaldehyde. We all know formaldehyde is a know carcinogenic and can cause birth defects by interfering with DNA replication
There are other alternatives to use as sweeteners.You can use Maple Syrup,grade b is suppose to be the best and most balanced sugar. Stevia is fifteen times sweeter than sugar and can be purchased at
health
food
stores in liquid,or powder or pill shaped form.
What The Other Guys Say;
Aspartame Information Center
Products
Aspartame has established itself as an important component in many low-calorie, sugar-free foods and beverages and is primarily responsible for the growth over the last two decades in the sugar-free market. The safety of aspartame has been affirmed by the U.S. FDA 26 times in the past 23 years.
Currently, aspartame is consumed by over 200 million people around the world and is found in more than 6,000 products including carbonated soft drinks, powdered soft drinks, chewing gum, confections, gelatins, dessert mixes, puddings and fillings, frozen desserts, yogurt, tabletop sweeteners, and some pharmaceuticals such as vitamins and sugar-free cough drops. In the United States, all food ingredients, including aspartame, must be listed in the ingredient statement on the food label.
Several tabletop sweeteners containing aspartame as the sweetening ingredient can be used in a wide variety of recipes. However, in some recipes requiring lengthy heating or baking, a loss of sweetness may occur; this is not a safety issue - simply the product may not be as sweet as desired. Therefore, it is best to use tabletop sweeteners with aspartame in specially designed recipes available from the manufacturers of these tabletop sweeteners. Aspartame tabletop sweeteners may also be added to some recipes at the end of heating to maintain sweetness.
The Following Reduced Calorie Products Have Aspartame-Sweetened Choices
Breath Mints
Carbonated Soft Drinks
Cereals
Chewing Gum
Flavored Syrups for Coffee
Flavored Water Products
Frozen Ice
Frozen Ice Cream Novelties
Fruit Spreads
Gelatin, Sugar Free
Hard Candies
Ice cream Toppings
Ice Creams, No Sugar Added or Sugar Free
Iced Tea, Powder
Iced Tea, Ready to Drink
Instant Cocoa Mix
Jams & Jellies
Juice Blends
Juice Drinks
Maple Syrups
Meal Replacements
Mousse
No Sugar Added Pies
Non-Carbonated Diet Soft drinks
Nutritional Bars
Powdered Soft Drinks
Protein Nutritional Drinks
Pudding
Soft Candy Chews
Sugar Free Chocolate Syrup
Sugar Free Cookies
Sugar Free Ketchup
Table Top Sweeteners
Vegetable Drinks
Yogurt, Drinkable
Yogurt, Fat Free
Yogurt, Sugar Free
Benefits
Aspartame is a low-calorie sweetener which is approximately 200 times sweeter than sucrose. The rapid rise in aspartame's popularity can be attributed to the many benefits aspartame provides to calorie-conscious consumers, including:
Aspartame Tastes Like Sugar
Studies conducted with taste-test panels show that many believe aspartame's taste is very similar to the taste of sugar.
Aspartame Enhances and Extends Flavors
Aspartame has the ability to intensify and extend fruit flavors, such as cherry and orange, in foods and beverages. For example, aspartame makes chewing gum taste sweet up to four times longer than sugar-sweetened gum.
Aspartame Does Not Promote Tooth Decay
The American Dental Association has noted it "welcomes the development and FDA approval of new artificial sweeteners that are shown to be safe and non-contributory to tooth decay. . . . Aspartame is an FDA-approved, safe sweetening agent and flavor enhancer that can be substituted for sugar in the diet."
Aspartame is Helpful for Individuals with Diabetes
Aspartame offers people with diabetes greater variety and flexibility in budgeting their total carbohydrate intake and allows them to satisfy their taste for sweets without affecting blood sugar, which helps them to comply with a healthful meal plan. In addition, consuming products with aspartame can result in fewer calories, which helps people with diabetes manage their weight.
Scientific Studies Show Aspartame is Beneficial in Weight Control
With nearly two out of three Americans classified as overweight or obese, taking steps to assure appropriate calorie intake is important for many people. Because products with aspartame are lower in calories than their sugar-sweetened counterparts, using products with aspartame together with regular physical activity can help with weight management.
Read Studies
...
Aspartame Can Be Part of a Healthful Diet
Aspartame can reduce or replace the sugar and calories in foods and beverages while maintaining great taste. Thus aspartame offers one simple step to help people move closer to achieving a more healthful diet.
See how many calories aspartame can save
.
More About the Benefits of Aspartame and Low-Calorie Sweeteners
Low-calorie sweeteners provide consumers with many benefits, both psychological and physiological. Health professionals and consumers believe low-calorie sweeteners are effective for the following purposes: weight maintenance, weight reduction, management of diabetes, reduction of dental caries, and reduction in the risks associated with obesity.
Read more about the benefits of aspartame and low-calorie sweeteners
...
European Food Safety Authority Reconfirms Safety of Low-Calorie Sweeteners
In February 2011, following a comprehensive review of two recent studies questioning the safety of low-calorie sweeteners, the European Food Safety Authority (EFSA) concluded that these new studies do not give reason to reconsider the previous safety evaluations of aspartame or other low-calorie sweeteners (intense sweeteners) authorized in the European Union. As is the normal practice, EFSA will continue to monitor related scientific developments in this area.
Read More
.
Q: Traditional holiday foods are bad for your health - myth or fact?
A. Myth:
Many holiday favorites are packed with nutrients. For example, sweet potatoes supply potassium and fiber and are loaded with the antioxidant vitamin A, which is important for a healthy immune system. Cranberries are high in vitamin C and may help fight urinary tract infections. Dried fruit and turkey can also be nutritious options. Try preparing foods that are nutritious and satisfying yet low in calories. Reducing the amount of fat and calories in meals can also help prevent weight gain. Create healthier versions of favorite baked goods by using fat-free milk instead of whole milk and applesauce in place of oil. Sweeten your beverage, casserole or dessert with a low-calorie sweetener such as aspartame. To thicken a liquid without adding fat, use one of the following: flour, cornstarch, potato flakes, yogurt or fat-free evaporated milk.
New Research: Sugar Substitutes Help Reduce
Caloric Intake without Overeating or Hunger
A new study published in the August 2010 journal, Appetite, further demonstrates that people who consume low-calorie sweeteners are able to significantly reduce their caloric intake and do not overeat.

Read More
"From Bench to Broadcast Putting Research into Perspective"
Health Professionals Receive CPE credit for this FREE webinar.
Read More
.
Food Safety Authority of Ireland Releases Aspartame Fact Sheet
"Aspartame (E951) has been used as a sweetener in foods and as a table-top sweetener for more than 20 years in many countries throughout the world. Aspartame is the methyl ester of the dipeptide of two amino acids, phenylalanine and aspartic acid. It is an odourless, white crystalline powder which has a clean, sweet taste. It is referred to as an intense (or artificial) sweetener and is used to replace sugar in a wide range of sugar-free and low-calorie foods."
Full text of Aspartame Fact Sheet
( pdf )
American Dietetic Association's Evidence Analysis Library Review of
Aspartame Complete
The American Dietetic Association (ADA) recently evaluated the low calorie
artificial sweetener
aspartame and its affects on weight, appetite, desire for sweetness and alleged adverse reactions for its Evidence Analysis Library (EAL). After the evaluation, the ADA reaffirmed the conclusion of regulatory and scientific authorities around the world that aspartame is not associated with adverse effects for the general population, including hypersensitivity reactions, elevated blood methanol or formate levels, or brain cancers. This conclusion statement was given a "Grade 1," the highest grade on the EAL scale, signifying there is good evidence supporting the conclusion. Further, the conclusion statement notes, "In patients with diabetes, aspartame consumption is not associated with elevated plasma phenylalanine and tyrosine levels, fasting glucose control, intolerance to aspartame, opthalmologic effects, heart rhythm or weight."
Read More
European Food Safety Authority Reconfirms Safety of Aspartame
EFSA Releases Opinion on Ramazzini Study
The European Food Safety Authority (EFSA) has once again confirmed the safety of aspartame. After a comprehensive review of data, EFSA's Scientific Panel on Food Additives, Flavourings, Processing Aids and Materials in Contact with Food (AFC) stated, "Overall, the Panel concluded on the basis of all the evidence currently available including the last published ERF [European Ramazzini Foundation] study that there is no indication of any genotoxic or carcinogenic potential of aspartame and that there is no reason to revise the previously established ADI for aspartame of 40 mg/kg bw/day." This statement further confirms EFSA's 2006 statement regarding an earlier Ramazzini study, which alleged that aspartame consumption may cause cancer
.
Facts
Aspartame (L-alpha-aspartyl-L-phenylalanine methyl ester) is a low-calorie sweetener used to sweeten a wide variety of
low calorie foods
and reduced calorie foods and beverages, including low-calorie tabletop sweeteners. Aspartame is composed of two amino acids, aspartic acid and phenylalanine, as the methyl ester. Amino acids are the building blocks of protein. Aspartic acid and phenylalanine are also found naturally in protein containing foods, including meats, grains and dairy products. Methyl esters are also found naturally in many foods such as fruits and vegetable and their juices. Upon digestion, aspartame breaks down into three components (aspartic acid, phenylalanine and methanol), which are then absorbed into the blood and used in normal body processes. Neither aspartame nor its components accumulates in the body. These components are used in the body in the same ways as when they are derived from common foods.
Further, the amounts of these components from aspartame are small compared to the amounts from other food sources. For example, a serving of no-fat milk provides about 6 times more phenylalanine and 13 times more aspartic acid compared to an equivalent amount of low calorie diet beverage sweetened 100% with aspartame. Likewise, a serving of tomato juice provides about 6 times more methanol compared to an equivalent amount of diet beverage with aspartame.
The Myths
The overwhelming body of scientific evidence clearly demonstrates that aspartame, even in amounts many times what people typically consume, is safe and not associated with adverse
aspartame side effects
. However, over the years, some consumers have reported symptoms, which they believed were associated with aspartame. The FDA has investigated these allegations and concluded that there is no "reasonable evidence of possible public health harm" and "no consistent or unique patterns of symptoms reported with respect to aspartame that can be causally linked to its use."
[ Read more from
The Medical News
about "aspartame danger" myths including false claims of aspartame's link to cancer, weight gain, and Alzheimer's disease. ]
In 1984, the Centers for Disease Control (CDC) reviewed 517 of these anecdotal reports and stated, "the majority of frequently reported symptoms were mild and are symptoms that are common in the general populace" and that "focused" clinical studies would be the best way to evaluate these complaints.
As a result, numerous scientific studies "focused" on the allegations were conducted by expert researchers at major academic institutions. The results of these studies overwhelmingly demonstrated that aspartame is not associated with adverse health effects, including headaches, seizures, changes in mood, cognition, or behavior, or allergic reactions.
Despite the overwhelming documentation of aspartame's safety, unfounded allegations that aspartame is associated with a myriad of ailments, including multiple sclerosis, Parkinson's disease, Alzheimer's disease, and lupus, have continued to be spread via the Internet and the media by a few individuals who have no documented scientific or medical expertise. Recently, several governments and expert scientific committees (including the Scientific Committee on Food of the European Commission, the United Kingdom's Food Standards Agency, the French Food Safety Agency and Health Canada) carefully evaluated the Internet allegations and found them to be false, reconfirming the safety of aspartame. In addition, leading health authorities, such as the Multiple Sclerosis Foundation, The National Multiple Sclerosis Society, The National Parkinson Foundation, Inc., the Alzheimer's Association, and the Lupus Foundation of America, have reviewed the claims on the Internet and also concluded that they are false.
Experts

More than 100 countries
support use of Aspartame
(click arrow button to play)
The Food and Drug Administration, the Joint Expert Committee on Food Additives (JECFA) of the World Health Organization, the Scientific Committee for Food of the European Community and regulatory agencies in more than 100 countries have reviewed aspartame and found it safe for use. The American Medical Association, the American Dietetic Association and the American Diabetes Association also have found aspartame safe.
Aspartame Experts

Regulatory Authorities




I have cross referenced a significant MIT lab result that flip flopped. Located in the Science and Professional Organizations. Please do the same.
http://www.wnho.net/before_and_after_aspartame_studies.htm
Conclusion
So there you have it folks. Both sides of the argument. Even though Donald Rumsfeld had direct political input on the approval of aspartame and the FDA has researched and studied the effects of aspartame and concluded that it does not pose a harmful threat. One can still beg the question or questions. Does it mean aspartame is still good for you because the FDA say's it is? And has the FDA ever approved a chemical compound or pharmaceutical drug that later proved to be harmful to humans and the environment? So for you, the reader, can still make a cognitive decision on whether or not to eat foods or drink beverages with aspartame in them. Eat well & stay well.